People are paying tribute to Indian-origin Sikh police officer Sandeep Singh Dhaliwal, killed in Texas. Indian native Sikh police officer paid tribute in Texas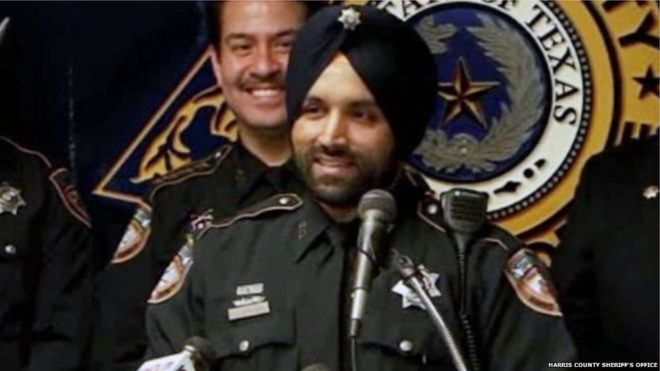 The administration says that while firing traffic in Texas, someone opened fire from behind on Sandeep Dhaliwal.
Sandeep Dhaliwal was the first Sikh to become a Sheriff Deputy in Harris County, Texas.
He was the first Sikh who was allowed to wear a turban and shave.
Sheriff Eddie Gonzalez of Harris County said, "He wore a turban, he represented his community with loyalty, respect and pride."
He was a hero, a respected member of his community and a guide. ''
The officials shared pictures and videos of the candle-light march that was taken out in honour of Sandeep Dhaliwal on Saturday.
Many people living there paid tribute to him on social media.
A local resident has posted a video on Twitter, remembering Sandeep Dhaliwal.
In this video, Sandeep is playing with the woman's son.
The child is handcuffing Sandeep in the game and he is laughing.
The woman wrote, "He laughed and joked with all of us and my son left a very good impression on what he could not hear."
Houston Mayor Sylvester Turner said, "Sandeep Dhaliwal was a brave and outstanding officer for us, the county, our city, our country and the world."
He was allowed to keep a turban and a beard, the religious symbol of the Sikhs, while on duty. ''
Sylvester Turner said that he was one to teach tolerance and understanding.
Funeral on October 4
According to the news agency Associated Press, Simran Jeet Singh, a senior partner in the New York-based Sikh Coalition, said that Sandeep Dhaliwal was like a gem and a beautiful soul.
The Harris County Sheriff Office said 47-year-old Robert Solis has been arrested for the murder of Sandeep Dhaliwal.
Currently, the cause of the murder has not been known.
Sheriff Eddie Gonzalez said that Robert Solis was given an "active petrol violations warrant" in the year 2017 for possessing a dangerous weapon.
Sandeep Dhaliwal will be cremated on October 4.