The Iranian Foreign Minister has warned that any attack on his country would be considered open war after the US Secretary of State-supported Saudi Arabia's defense after the attack on Saudi installations.
The Iranian Foreign Minister has said this after his US counterpart Mike Pompeo said that the attack on Saudi installations was a war movie and that Iran's actions were unbearable and that the United States was following the recent attacks on Saudi Arabia's crude oil installations. Then supports its defense.
Speaking to US channel CNN on Thursday, Jawad Zarif said: "I am making a very serious statement that we do not want war, we do not want to be involved in any military conflict but we have an eye for defending our territory." Will not even blink. '
The Iranian Foreign Minister also said Iran's accusations about the US and its supporters in Saudi oil installations could also be an attempt to push the US president into war.
In a message on Twitter, he said: 'War action or war effort?
The B team and its accompanying partner are trying to deceive Donald Trump. '
In the past, Jawad Zarif has used the term B team for Israeli Prime Minister Netam Yahoo and Saudi Wali Ehed Mohammad bin Salman.
Mike Pompeo arrived in Riyadh on Wednesday to meet with Saudi officials, and after meeting with Saudi Wali Ahad Mohammed bin Salman, said in a message on Twitter that Iran's actions could not be tolerated and attacks on oil installations not only Saudi. There were also threats to the supply of oil to Arabs but also to US citizens and the world.
US President Donald Trump has said that it seems certain that Iran was behind the attacks on oil installations.
US President Donald Trump has also said that the US has 'many options' for retaliation.
He said, 'There is one last option and then there are some lower-level options.
We will see, our position is very strong. '
In a tweet on Wednesday, President Trump also said he had asked the US Secretary of State to further tighten and increase sanctions on Iran.
Iranian Foreign Minister Jawad Zarif has condemned the US 'provocative economic war' on President Trump's move.
In his message on Twitter, he said that the purpose of the United States is to deliberately target the Iranian people.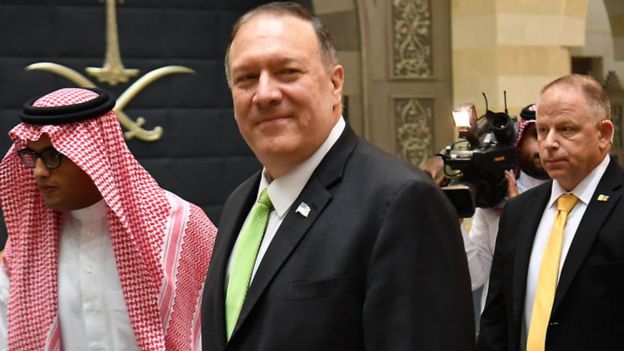 It is to be remembered that on Saturday, attacks on Saudi oil company 'Aramco' installations in the Baqiq and Kharis areas of Saudi Arabia also affected the world's largest oil refinery and where half of the company's production was suspended. Global oil supply has declined.
'Evidence' of Saudi Arabia
After the United States, Saudi Arabia also blamed Iran for directly involved in the attacks.
Iran denies involvement in any such action and has warned that it will respond in the event of an attack.
Iran's pro-Houthi rebels have already said that they are behind the attacks.
Saudi Defense Ministry officials at a press conference showcased the wreckage of some drones and cruise missiles, claiming that Iran is involved in the attack on oil installations.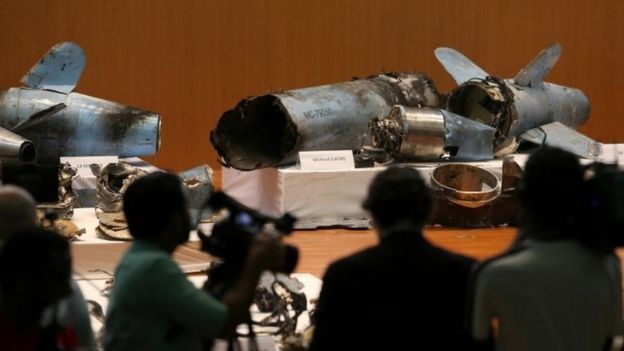 Saudi officials say the installations were attacked with 18 drones and seven cruise missiles and were not fired by Yemen.
Evidence suggests that the attack was carried out by the north and was undoubtedly helped by Iran, Defense Ministry spokesman Colonel Turkey-Maliki said.
However, Colonel Maliki said Saudi authorities are still working to determine what was the origin of the attack.
The wreckage also showed a drone on which it was said to be on the Iranian drone's delta.
Colonel Maliki said that 'the data obtained from the computers on the drone shows that the Iranian.
Colonel Maliki said the installations in Baqq were attacked by 18 drones, while seven cruise missiles were fired at both locations, four of which targeted the Kyrgyz oil field while three fell short of Baik.
He said all the missiles came from the north.
He also showed a video of a drone that struck Baqq.
On this occasion, disaster and loss were shown with the help of photos and maps.
He said that the exact attack on the cruise missiles in Khartoum shows that there is no Iranian proxy behind it because they do not have the capacity.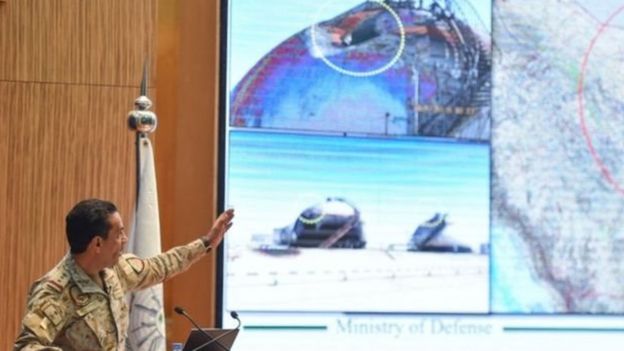 Colonel Maliki also said that it is not yet clear where the attack took place, it will be revealed as soon as it is clear.
American Claims
Contrary to Saudi officials' declaration, US officials have claimed a few days ago that the United States detected a location in Iran from which drones and cruise missiles were fired at Saudi Arabia's oil installations.
A senior US official told CBS News that the location is located at the northern tip of the Gulf in southern Iran.
The official added that Saudi Air Defense did not stop the drones and missiles as they turned to the south to stop the Yemeni attacks.
Impact on the global oil market
Saudi Arabia's attacks on oil installations on Saturday saw the impact of oil prices on the global market, and where the market opened on Monday, oil prices in the global market reached the highest level in the last four months.
According to Bloomberg, this is the largest increase in single-day business since 1988.
It may take several weeks for Saudi installations to be fully restored, and these attacks have resulted in an immediate five per cent reduction in global oil supply.