Prime Minister Imran Khan will address the 74th session of the UN General Assembly in New York today. What will happen to Imran Khan's speech in the United Nations?
According to the UN website,
the general debate is scheduled to run from 24 to 30 September, while Imran Khan will address September 6 between 11am and 45pm in accordance with Pakistan's standard time.
Prior to Imran Khan, Prime Minister Lee Hsien Loong will deliver the speech while Jamaican Prime Minister Andrew Holmes will be on stage.
According to one estimate, if each speaker gives speeches between 15-25 minutes, then the turn of Imran Khan will come at around nine o'clock according to Pakistan's standard time.
interestingly, Imran Khan and Indian Prime Minister Narendra Modi are addressing the UN General Assembly on the same day and the same session.
Imran Khan will address Prime Minister Modi's speech on Friday.
During his visit to the United States, Prime Minister Imran Khan spoke on various occasions on Kashmir issue.
He said in a recent interview to MSNBC that his speech in the General Assembly would be the subject of Kashmir.
On the other hand, according to speculation by Indian media, PM Modi will talk about peace, extremism and development in the region.
He will talk about his development plans in India over the past five years.
News agency AFP correspondent Asam Ahmed said in his message on Twitter that Imran Khan did not get a good slot to speak in the General Assembly.
'They will speak during lunchtime when the hall is usually empty.
Modi's turn is three times before them. '
He asked, "Is this a poor plan of Pakistan's mission in the United Nations?"
Modi does not want US mediation'
US Secretary of State for South and Central Asia Ellis Wells said during a press briefing Thursday that President Donald Trump would mediate between India and Pakistan only if both sides requested it.
"PM Modi has made it clear that he does not want arbitration."
He said that the President (Trump) has good relations with the leaders of both India and Pakistan.
Reducing tensions and having a dialogue between the two will benefit the whole world. "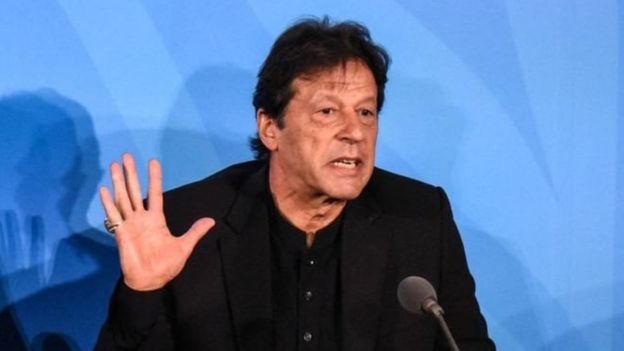 He further said that the US has expressed its concern with Prime Minister Modi over the Kashmir issue and the Indian Prime Minister has assured that his recent actions will improve the situation.
Ellis Wells has said that increasing trade with both India and Pakistan is America's top priority.
He made it clear that the United States wants to expand its trade with Pakistan, which is currently only $ 6.6 billion.
"In the coming months, it will focus on expanding."
The US spokesperson also noted that Pakistan was seriously working against cross-border infiltration and terrorism and was acting against the UN-designated terrorists, including Hafiz Saeed.
I am against war'
During an interview with MSNBC, Imran Khan said that human rights are being violated in Kashmir and President Trump could play an important role in mediation with India.
"For the last 53 days, 80 lakh people have been locked up in Kashmir."
"Many countries look at the market of one billion two billion people in India, and sadly the Indian Prime Minister is taking advantage of this."
He added that Pakistan wants peace in the region.
The Prime Minister of Pakistan emphasized that he was against the war, but India and Pakistan are facing two nuclear forces due to tensions.
Speaking on Iran-US tensions, Imran Khan said, "We are talking to Iran.
Trump said you want to talk about a new nuclear deal. '