Pakistani Prime Minister Imran Khan returned from America and a day after his return, he made a big change - the leave of Maliha Lodhi. Pakistan: Imran returned Maliha Lodhi from United Nations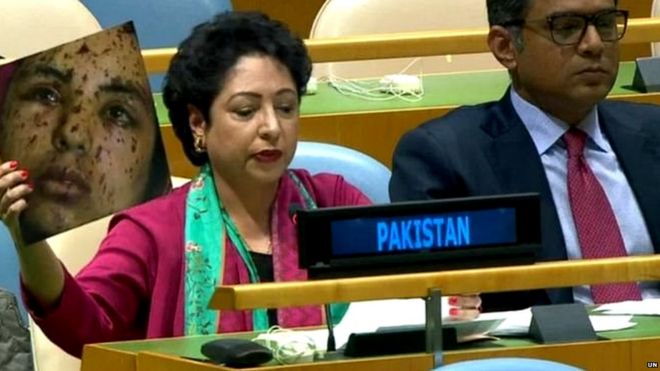 In place of Maliha Lodhi, now Munir Akram will be the permanent representative of Pakistan in the United Nations.
Why Maliha Lodhi was removed from the post, till now no official information has been given from Pakistan.
Nor has it been told what responsibility has been given to Maliha Lodhi now.
However, there is a lot of speculation in social media.
Many people believe that Maliha failed miserably to make Pakistan's 'Mission Kashmir' a success, so this decision has been taken.
After the removal of Maliha, some people are mentioning his mistakes due to which Pakistan had to face embarrassment in public forums.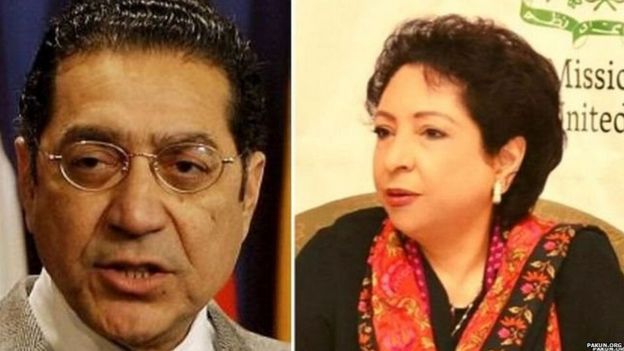 Maliha Lodhi was one of these mistakes:
showing a fake picture of Kashmir in the United Nations.
It is September 2017.
Maliha Lodhi said at the United Nations, "I invite all of you and the Indian Foreign Minister to come and look at the United Nations map. India's military occupation of the state is illegal."
Waving a picture in front of everyone, he said: I see you the face of 'Indian barbarism' in Kashmir.
The picture he waved was of a young injured girl.
The girl's entire face was full of wounds.
Maliha claimed that she was presenting evidence of 'Indian cruelty' in Kashmir and it was a picture of a girl injured by a pellet gun.
He also retweeted this picture.
But soon it became known that the picture was not of Kashmir but of Gaza Strip.
The girl seen in the picture was not a Kashmiri but a 17-year-old Palestinian girl.
His injuries were not from pellet guns but from the bomb shots.
The photo of this girl who was injured in the Israeli attack was taken by award-winning photojournalist Heidi Lavin in 2014.
Maliha Lodhi had a lot of gritty in the world to present a fake picture of Kashmir in the United Nations.
Especially Pakistan was severely criticized in social media.
Pakistani people said that this mistake of Maliha Lodhi has brought the country into disrepute.
Apart from this, Maliha Lodhi had also come into the limelight due to her lapse when she addressed British Prime Minister Boris Johnson in one of her tweets as Britain's foreign minister.
Lodhi had tweeted, "Prime Minister Imran Khan met UK Foreign Minister Boris Johnson this morning."
He also shared a picture of the meeting between the two leaders with the tweet.
However, Lodhi also apologized for the mistake by deleting the tweet after about an hour.
After being removed from the post, Maliha Lodhi is once again in the news and discussion.
The senior Pakistani journalist has addressed her as a 'tornado' and tweeted, "Maliha was abusive. She used to insult the elders and the little ones by herself. She was very ambitious and self-assured. Prime Minister Imran Khan has taken the decision that made her Should have taken. The decision to appoint Munir Akram to the United Nations is very good. The last day of every madman comes. "
Former RAW chief Tilak Deveshar tweeted, "Maliha Lodhi has been removed from the post of Permanent Representative in the United Nations immediately after Imran Khan's visit. This shows how his visit to the United Nations was."
Imran Khan had strongly criticized India in the United Nations General Assembly on the Kashmir issue and described the restrictions in Kashmir as 'inhuman'.
In response to this, India retaliated and said that it is not necessary for Kashmiris to raise their voice for anyone else, especially the country which has created an 'industry of terror'.