The Supreme Court has suspended the election tribunal's decision to revoke the election of NA-265 Quetta (2) in the constituency of PTI member National Assembly Qasim Khan Suri and ordered him to be reinstated as deputy speaker.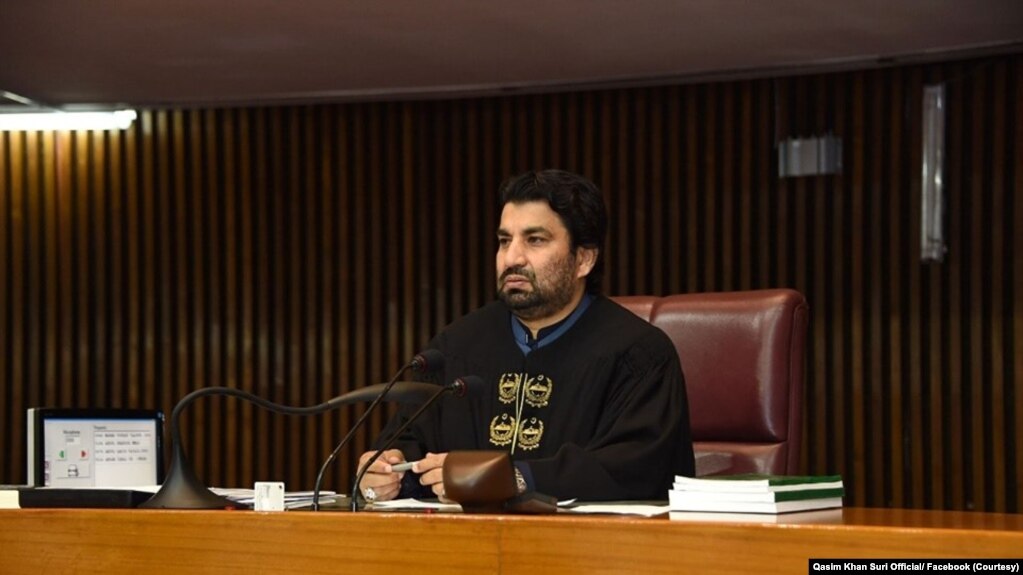 A three-member bench of the Supreme Court on Monday upheld an appeal against the decision of former deputy speaker National Assembly Qasim Suri's election tribunal.
During the hearing, Chief Justice Omar Ata Bandial gave remarks that the result of the election tribunal was not correct.
Qasim Suri's lawyer Naeem Bukhari appeared in court and argued how his client could be held responsible for the standard ink.
Naeem Bukhari said that the NADRA report showed incorrect ID card 1533, incomplete ID card 359, duplicate ID card 123, counter-countless counter-file 183 and 100 unregistered votes cast in the constituency.
According to him, the total number of votes mentioned above is only 3 thousand 198 votes whereas Qasim Suri won by a margin of more than five thousand votes.
Naeem Bukhari argued that his client got 25973 votes and the second candidate got the 20089 votes. While Nadra rejected 52,000 votes for being a non-standard ink.
The court, while accepting the petition of Qasim Suri, issued a stay order on the decision of the Election Tribunal and ordered that no by-elections be made in the constituency till the decision of the appeal.
Talking to the media after the judicial decision, Minister of State for Parliamentary Affairs Ali Muhammad Khan said that the Supreme Court has issued a stay order on the decision of the Election Tribunal, after which the member and deputy of Qasim Suri National Assembly until the appeal is decided. Speakers will remain.
According to him, it is a matter of pride for Balochistan that his representative is the Deputy Speaker of the National Assembly.
It should be remembered that Qasim Khan Suri's victory in the general election was challenged by Balochistan National Party (Mangal) candidate Nawabzada Mir Lashkari Raisani in the election tribunal.
The Election Tribunal, comprising Justice Abdullah Baloch of the Balochistan High Court, on September 27, ruled that the success of Qasim Suri, following a verdict on the election exclusion petition.
The Election Tribunal confirmed the constituency votes through NADRA. In light of the report, 52,000 votes could not be confirmed.
After the decision of the election tribunal, petitioner Lashkari Raisani said the victory came true. But, for the last one year, a disqualified person has been running for the National Assembly.
After Qasim Suri gets relief from the Supreme Court, he will take over as deputy speaker again.
In the light of the Election Tribunal's decision, the Election Commission had earlier cancelled the notice of its success. Which will now be restored in light of the Supreme Court decision.