Fawad Chaudhry faces criticism over tweeting fake directive
Government of Pakistan Minister of Science and Technology Fawad Chaudhry is facing severe criticism for tweeting a fake directive regarding Jamiat Ulema-e-Islam (F) 's stay in Islamabad. Fawad Chaudhry faces criticism over tweeting fake directive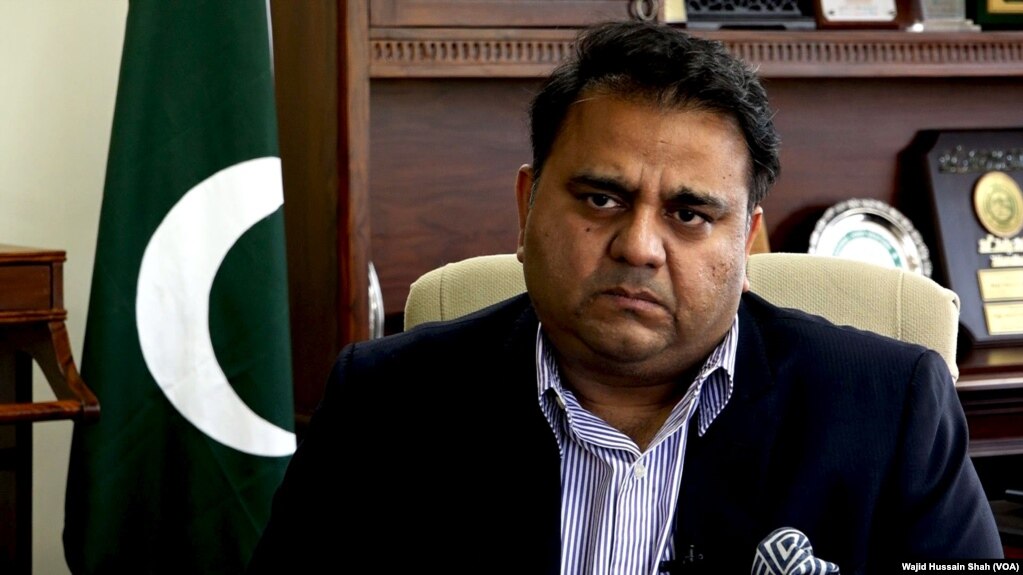 Pakistani journalists and political circles are demanding action against a responsible minister for promoting a piece of false news (fake news).
Fawad Chaudhry last week tweeted a directive to the Jamiat Ulema-e-Islam (F) on the October 27 liberation march, in which the party directed the workers to take some precautionary measures.
The federal minister specifically referred to Article VI of this alleged directive, in which Jamiat Ulema-i-Islam activists were instructed to refrain from "lava" without the permission of the rich.
Fawad Chaudhry said, "From the Sixth Directive, it seems that the sit-in is the Sister of the Punk Movement in Amsterdam or San Francisco. There are wonderful intentions."
The tweet by Fawad Chaudhry was deleted after being on his account for almost 22 hours.
The Jamiat Ulema-e-Islam condemned the federal minister's behaviour by calling it a fake.
Fawad Chaudhry's tweet was retweeted by PTI Member of Parliament Dr Aamir Liaquat Hussain and several journalists.
You may also like:
In a video message, Maulana Abdul Ghafoor Haidari, secretary-general of Jamiat Ulema-e-Islam, said that the directive circulating on social media is based on utter fabrication and lying.
He alleged that PTI affiliates made this fake directive on themselves and issued it on social media.
Journalist Subokh Syed tweeted that Fawad Chaudhry and Aamir Liaquat Hussain shared this fake directive on Twitter with comments.
Senior journalist Aaron Rasheed said during his program broadcast on 'Nine to News' that if he had been Imran Khan's place, he would have fired Fawad Chaudhry immediately.
He said such a nasty tweet by a federal minister should be embarrassing for the prime minister.
Reacting to the fake directive, Fawad Chaudhry said that Pakistan Tehreek-e-Insaf's social media workers are the most educated and conscious.
He said why social media propaganda against the PTI is not criticized.
The matter did not just end there, but after the signing of Deputy Commissioner Islamabad Hamza Shafqat, a fake notification circulated on social media, in which Islamabad police and other agencies were instructed that "Liaquat" was a non-Shariah. And is illegal and may occur during the coming days.
Hamza Shafqat, while speaking to Voice of America, denied the notification completely and said that the notification on viral on social media is fake.
He also wrote a letter to the Federal Investigation Agency (FIA) Cyber ​​Crime Wing in this regard, asking him to investigate a fake notification that went viral in his name.
Fawad Chaudhry has been a Federal Minister of Information and Broadcasting before and during his ministry, he created a 'Fake News Buster' to end the 'fake news' on social media.
The buster operating under the Ministry of Information and Broadcasting immediately identified fake or fabricated news.
But Fawad Chaudhry did not issue any warning on the tweet by Fake Newsbusters.
What to Do to Prevent Fake News
Asad Baig of the Media Matters for Democracy, a non-governmental organization working on digital media, says that there must be a systematic system of fact-checking within newspapers and TV channels to dispel 'fake news'. He said journalists should understand the extent to which false news can be harmed.
He says the government is responsible for preventing fake news on social media, but the issue is very complicated. If the government makes any legislation on the issue, then it may bring the right news, while the freedom of expression can also have an impact.
Assad Baig says that awareness and awareness need to be created in the public regarding the right news. The public should only believe in news that reaches them through authentic and credible sources.
Asad Beg said 31 people were killed by mobs in India over the past year due to false news on social media. He said that if Pakistan does not end the chain, then there can be a situation like India.
There have been many complaints in the past regarding fake news in Pakistan in which false news against different political figures has gone viral.
Social media wings of various political parties and institutions make such reports against their opponents and shortly thereafter thousands of accounts are made viral. But there has been no formal legislation at the government level so far, and the FIA's cybercrime wing has not been able to fully investigate such complaints due to scarce resources.