Imran Khan arrives in Beijing, hoping to sign several important agreements
Pakistani Prime Minister Imran Khan arrived in Beijing on Tuesday for a two-day official visit to China. Imran Khan arrives in Beijing, hoping to sign several important agreements
In a two-day visit, Prime Minister Imran Khan will meet Chinese President Xi Jinping and Chinese counterpart Li Cheng, according to a statement issued by the Foreign Office of Pakistan.
During the meetings, China will discuss with the Chinese business community representatives in Beijing, as well as discussing the issue of expanding economic transit in various sectors.
A high-level delegation is also accompanied by the Prime Minister, including Foreign Minister Shah Mahmood Qureshi, to Beijing.
This is his third visit to Beijing as Prime Minister of Pakistan, starting on Tuesday.
Before Prime Minister Imran Khan arrived in Beijing, Pakistan Army Chief General Qamar Javed Bajwa had arrived in China.
You May Also Like:
Pakistani Army spokesman Major General Asif Ghafoor said in his Twitter statement Monday that General Bajwa will meet Chinese military leadership during his official visit to Beijing.
He further said that General Bajwa would also attend the meetings of the Prime Minister of Pakistan with Chinese President Xi Jinping and Chinese Prime Minister Lee Cheng.
The Foreign Office of Pakistan has expressed the expectation that the Memorandum of Understanding (MoU) between the two countries will be signed during the visit.
According to a statement issued by the Pakistani Foreign Ministry, the visit will further strengthen the economic and strategic relations between Pakistan and China.
Prime Minister Imran Khan is visiting China at a time when many changes have taken place in the region over the past few months. These include important events such as the suspension of the US, Taliban peace talks and the termination of Kashmir's special status by the Indian government.
According to the Foreign Office, in his meeting with the Chinese leadership, the Prime Minister will discuss the situation in the region, including India's peace and security situation in South Asia following the August 5 measures by Jammu and Kashmir.
Imran Khan will inform the Chinese leadership about the government's decision to expedite the implementation of the China-Pakistan road project.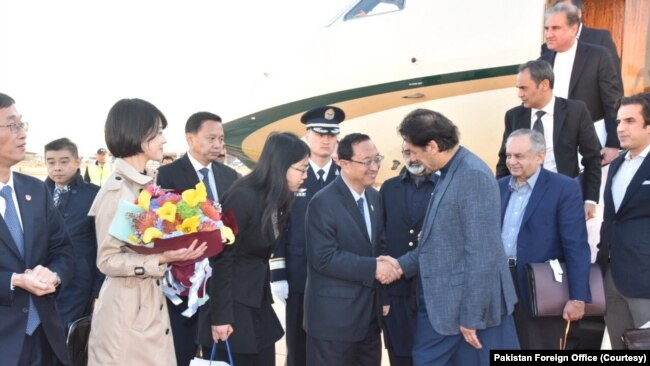 International Affairs analyst and journalist Zahid Hussain says China is a close ally of Pakistan and any changes that are currently taking place in the region will be discussed between the two countries' leadership.
Although the situation in Afghanistan will also be discussed, he said, the focus of the discussion is on the C-Pack project and the recent steps taken by India on Kashmir.
It is to be remembered that recent measures taken by India on Kashmir have made relations between Islamabad and Delhi very tense.
Several other countries, including the United States, Pakistan, India have been calling for resolving bilateral issues through negotiations, while US President Donald Trump has offered mediation several times.
However, India views Kashmir as an internal matter and does not agree to any third-party arbitration on the matter.
However, former Foreign Minister of Pakistan Khurshid Kasuri has said that China can hold a dialogue between Pakistan and India, apart from the US, even if it is a backdoor channel.