Indian Air Force has confirmed that India's MI-17V5 helicopter, which fell into Indian-administered Kashmir on February 27, personally targeted the Indian missile. India Air Force: Shot down own helicopter by mistake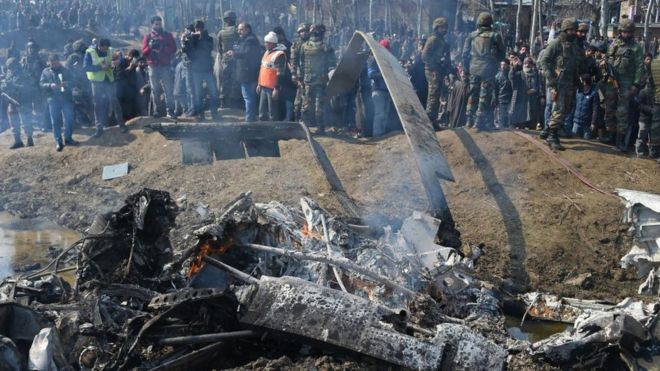 GETTY Images
The Indian helicopter crashed in Budgam area near Srinagar, killing six Indian Air Force personnel and a civilian.
The incident took place on the day when Indian and Pakistani fighter jets exchanged fire at the Line of Control.
Earlier in May, the Indian Air Force removed the commanding officer of Srinagar Air Base from his post in connection with the Mi-17 crash.
Addressing a media briefing in the capital New Delhi on Friday, Chief of the Air Force Marshal Rakesh Kumar Singh said that hitting his own helicopter was a 'huge mistake'.
N
ow the Indian Air Force says two officers are being prosecuted.
Air Chief Marshal Rakesh Kumar Singh said a court of inquiry had completed its investigation last week.
Air Chief Marshal said: "It was a big mistake of ours and we accept it.
One of our missiles hit the helicopter and that has been proven. '
He added that administrative and disciplinary action is being taken in this regard, and necessary steps will be taken so that such incidents do not occur in the future.
It may be recalled that one day before the helicopter crashed in Budgam near Srinagar, India had claimed that it had targeted a 'Jaish Muhammad's training camp' in Balakot, Pakistan.
This claim was rejected by Pakistan.
T
he very next day, India sent planes into Pakistani territory, at least one of which was struck by the Pakistani Air Force and its pilot, Abhinandan Werthaman, was arrested.
He was later released by Pakistan under 'passionate goodwill'.
An Indian helicopter was destroyed by a Spider Air Defense missile system fire at Srinagar Airbus, the Court of Inquiry found.
The inquiry found that the crew of the air defence system understood the Indian helicopter as an enemy missile, which occurred just ten minutes after the take-off of the helicopter.
The missile hit the helicopter, split into two pieces and flashed.