President Erdogan said that the international community has failed to find a solution to the Kashmir problem for the last 72 years.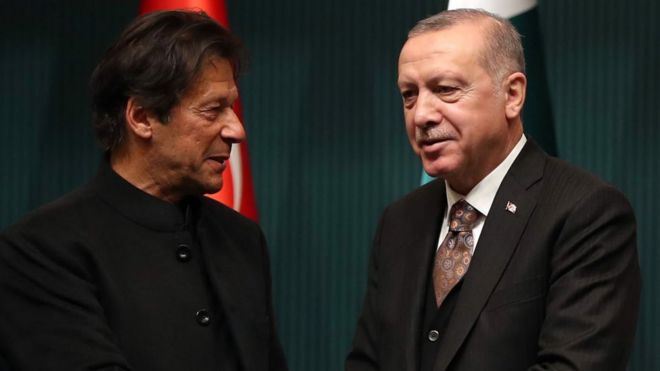 Erdogan had said that India and Pakistan should resolve the Kashmir problem through dialogue.
The Turkish President said that despite the UN resolution, 8 million people are trapped in Kashmir.
Apart from Ardoan, Malaysia also raised the issue of Kashmir in the UN General Assembly.
It is being said that this attitude of Turkey and Malaysia in the UN General Assembly is a setback for India.
India has expressed regret over this attitude of Turkey.
On this week, Indian Foreign Ministry spokesman Ravish Kumar said that Kashmir is an internal matter of India.
He said that the attitude of Turkey and Malaysia is very encouraging.
Ravish Kumar said, "India and Turkey have friendly relations."
But since 6 August we regret that there have been constant statements on India's internal affairs from Turkey.
They are factually incorrect and biased. ''
Relations between Pakistan and Turkey have been much better than India.
Both countries are Sunni dominated by the Islamic world. E
rdogan has always had good relations with Pakistan.
When the army coup in Turkey against Ardoan failed in July 2016, Pakistan came out in favour of Ardoan.
The then Prime Minister of Pakistan Nawaz Sharif supported Ardoan by calling.
After this, Sharif also visited Turkey.
Since then, the relations between Ardoan and Pakistan have become better.
Political and Economic Relations
Since 2017, Turkey has invested one billion dollars in Pakistan.
Turkey is working on many projects in Pakistan.
It has also been providing Metrobus rapid transit system to Pakistan.
Work is still going on for the proposed free trade agreement between the two countries.
If this agreement is reached between the two countries, then bilateral trade can increase from $ 90 million to $ 10 billion.
Turkish Airlines has also expanded a lot in Pakistan.
Istanbul has developed into a regional aviation hub.
Most Pakistanis go through Turkey to the countries of the West.
However, Pakistanis need a visa to travel to Turkey.
If a free trade agreement is reached, the relationship between the two countries will be deeper.
In recent years, tourists from the West and Europe have come down in Turkey, in which Turkey wants to attract tourists from Islamic countries.
Turkey has long been an economic and political model for Pakistan.
But things have changed a lot over time.
Former Pakistan Army chief and former President General Pervez Musharraf has been an admirer of Turkish founder Mustafa Kamal Pasha.
Musharraf has been praising Pasha's secular reforms and strict governance.
The current Prime Minister of Pakistan, Imran Khan has been praising Ardoan.
In 2016, Emraan Khan called Ardoan a hero after he failed a coup in Turkey.
Of course, Imran Khan also does not want that there should be a military coup against the political government in Pakistan, which is always feared in Pakistan.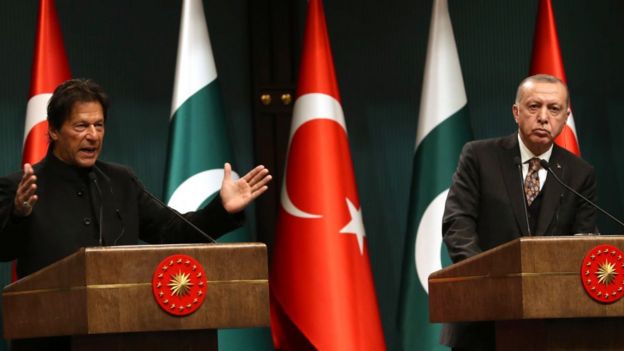 Military and security relations
Internationally, Turkish-Pakistani unity has been evident for decades.
Both countries have been supporting each other on their internal issues.
The close of both countries is also about Azerbaijan.
This friendship of the three countries falls heavily on Armenia.
Pakistan is the only country in the world that has not recognized Armenia as a sovereign nation.
Azerbaijan makes its claim on the disputed territory Nagorno-Karabakh and Pakistan also support it.
Turkey is also in this case.
In return, Turkey supports Pakistan over Kashmir.
In February this year, when India claimed an airstrike at alleged extremist camps in Balakot, Pakistan, the tension between the two countries had increased considerably.
Pakistan had arrested an Indian pilot who later left.
This step of Pakistan was praised by President Erdogan.
On 5 August, when India neutralized Article 370 from Jammu and Kashmir under its control, Prime Minister Imran Khan approached President Ardoan and he supported Pakistan's stand.
Ardowan also presents himself as a major leader and supporter of the Muslim world.
Although there is good friendship between the two countries, the friends of both are not the same.
The relations between Turkey and China are not good but the relations between China and Pakistan are very good.
Turkey openly criticizes the government's behaviour towards Weigar Muslims in China, while Pakistan remains silent.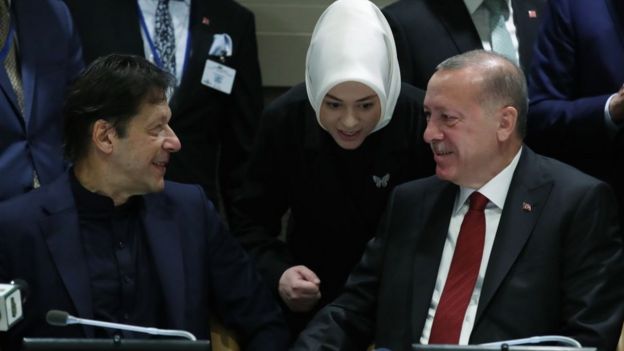 The relationship between Turkey and Saudi Arabia is not good but the relationship between Pakistan and Saudi is very good.
Turkey was very vocal against the murder of journalist Jamal Khashoggi, but Pakistan remained absolutely silent.
Pakistan and Turkey alike are struggling with separatism.
Pakistan stands with Ardovan in the ongoing conflict with the Kurdistan Workers Party in Turkey.
Turkey's struggle with Kurdish rebels has been going on for a long time.
In 2015, Turkey also requested the help of intelligence and resources from Pakistan in this conflict.
Pak-Turk School became the most pressing issue in the cordial relations between the two countries.
These schools were part of the global network of the influential Islamic religious leader Fethullah Gülen.
At one time, Fetullah used to be an associate of Ardoan.
Through these schools, Turkish culture, as well as Gülen political ideas, were encouraged.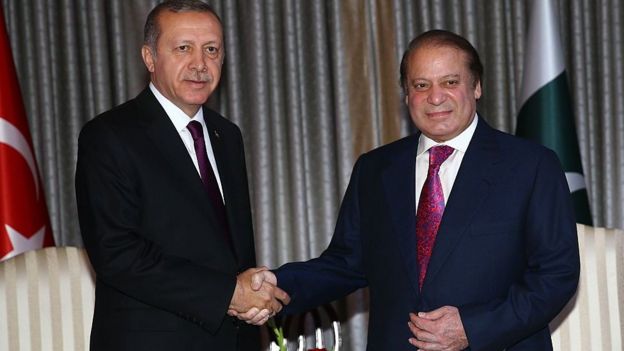 When the coup was attempted in 2016, Ardowan blamed Gulen and his Hazmat movement for this.
After this, Ardoआनan told the rest of the countries that Gülen is a supporter of terrorism, so he should close his schools running here.
Pakistan did not reject Ardowan's demand.
At first, he refused to give a residency visa to those working in schools and later forced him to leave Pakistan.
Earlier this year, the Supreme Court of Pakistan declared the Gulenists as terrorists and handed over Pakturk schools to the Marie Foundation.
Meaning that Pakistan has not reduced Ardowan's fortunes.
On the other hand, Turkey also supports Pakistan's stand on Afghanistan problem.
However, Pakistan and Turkey were with the Mujahideen during the intervention of the Soviet Union in Afghanistan.
Because of this, due to cooperation with America, the two countries were not separated from the confrontation of the Islamic world.
When the US attacked Afghanistan in October 2001, Pakistan had to be against the Taliban.