Maulana Fazlur Rehman, the head of Jamiat Ulema-e-Islam (F), has announced October 27 to launch an anti-government march.JUI chief Fazlur Rehman announces 'Independence March' from October 27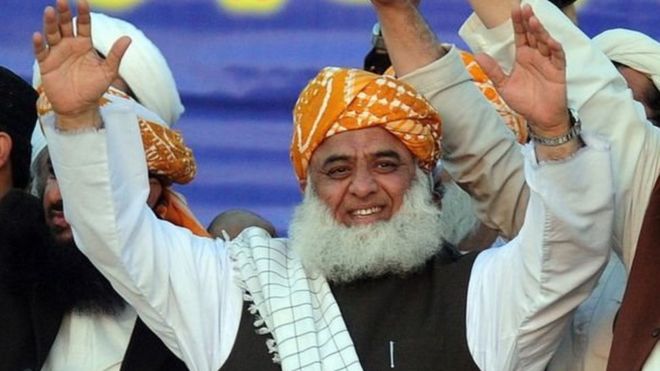 GETTY Images
He announced this at a press conference in Islamabad.
Maulana Fazlur Rehman said, "We all agree that the current government should be abolished immediately and there should be no delay."
The head of the Jamiat Ulema-e-Islam said that if it was too late, the country would suffer a great loss because the present government is a big threat to the country.
He also demanded immediate new elections in the country.
Shahbaz Sharif will not participate in the Freedom March, while Pakistan Muslim League-Nawaz spokesman Maryam Aurangzeb told private TV Geo.
"The news that goes on in the media regarding Shahbaz Sharif's non-participation in the march is completely baseless and I strongly deny it," he said.
According to Maryam Aurangzeb, we in principle agree with Maulana Sahib that the people of Pakistan are suffering due to inflation and unemployment.
He further said that the present government does not understand how to overcome the problems of the people.
People's Party stand
Pakistan Peoples Party Chairman Bilawal Bhutto Zardari spokesman Mustafa Nawaz Khokhar said that Chairman Bilawal Bhutto Zardari welcomed Maulana Fazl-ur-Rehman's announcement of October 27 march.
According to the spokesman, the two leaders agreed that the opposition had no choice but to protest.
In reference to Mustafa Khokar's Bilawal Bhutto, the democratic parties had no choice but to take to the streets.
According to a spokesman of Bilawal Bhutto Zardari, the party chairman convened a meeting of the core committee next week and the core committee will take important decisions regarding Maulana Fazlur Rehman's independence march.