Bangladesh Prime Minister Sheikh Hasina has reached India in the course of her four-day visit amidst burning issues like NRC. Sheikh Hasina's visit to India: on which issues agreed, on which dispute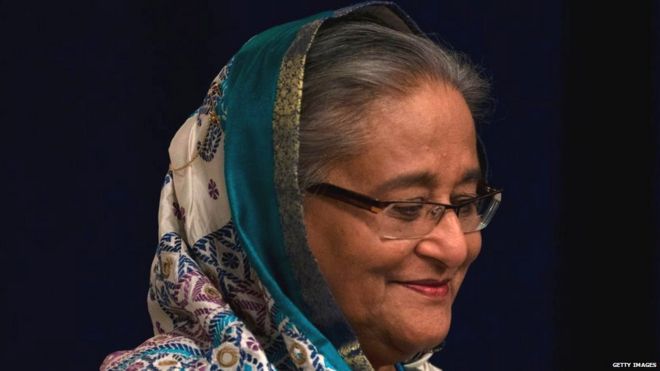 This is his first visit to India after winning elections and forming a government.
India is also giving importance to this tour because it is happening during the second term of Prime Minister Narendra Modi.
Hasina, who is on a tour of India, is attending a meeting of the 'World Economic Forum' in which 40 countries are participating.
He will meet Indian President Ramnath Kovind and Prime Minister Narendra Modi on Saturday.
By the way, India has placed Bangladesh in the category of its friendly countries, but there are some issues between the two countries which are also screwed.
For example, the pace of installation of the port along with the supply of submarines to Bangladesh by China and fastening of barbed wire fencing between the two countries.
On the diplomatic level, both countries have never spoken of any deterioration of relations with each other and neither has given many such statements, but there is definitely some tussle between the two on some issues.
However, India has always said that its relations with Bangladesh are the best so far.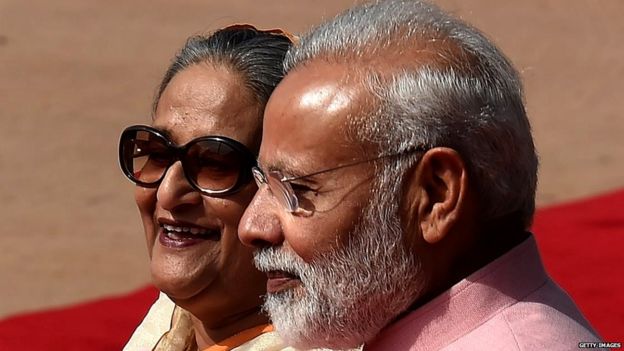 Both countries will also discuss their respective concerns
This is the reason that after the removal of Article 370 from Jammu and Kashmir, Bangladesh described it as an internal matter of India.
Similarly, Bangladesh has always supported the inclusion of India as an observer in the 'OIC' ie 'Organization of Islamic Cooperation'.
Only Muslim-majority nations are involved in this institution.
During the recent United Nations General Assembly meeting held in New York, there was a long discussion between Prime Minister Narendra Modi and Sheikh Hasina separately, in which many issues have already been discussed.
Pinak Ranjan Chakraborty, who was India's High Commissioner in Bangladesh, told the BBC that both countries will also discuss their concerns in the course of Hasina's visit.
Chakraborty says that a lot has already been decided between the Prime Ministers of the two countries.
For example, to deal with terrorism tightly and develop a better traffic system.
Illegal Infiltration is the biggest issue
Experts say that infiltration has been the biggest issue between India and Bangladesh.
In 2014, the Bharatiya Janata Party made it an election issue.
Then this issue was again raised in general elections this year.
Joita Bhattacharya, who keeps an eye on the relationship between the two countries, says that despite all these, relations between India and Bangladesh remained better.
Joe says that during his first reign, Narendra Modi settled the pending land issue between Bangladesh and India, under which exchange of land also took place.
Although there are some issues on which both countries do not comment against each other, there is a tussle about these issues.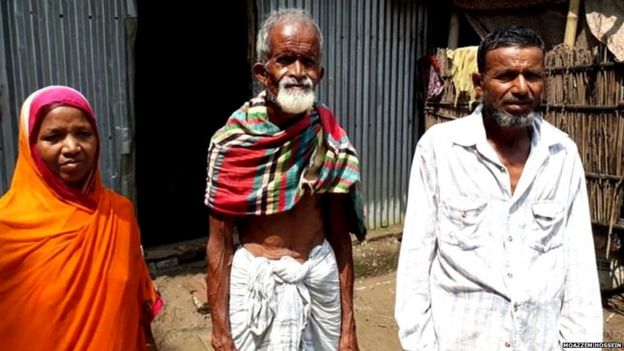 Bangladesh is worried about NRC
The work of putting barbed wire on the border of India and Bangladesh is going on.
Although it was being said that this could lead to chaos in the relations between the two friendly countries.
On the other hand, after the process of NRC in Assam starts, Bangladesh feels that it does not have the capacity to keep more refugees.
If people from India are also sent to Bangladesh after the NRC process, it will be a big challenge for Bangladesh battling Rohingya refugees,
However, the NRC process is being done in the direction of the Supreme Court and not on the direction of the Government of India.
Mutual agreement on most issues
Senior correspondent of BBC Bangla Service Shubhojyoti Ghosh says that there is an agreement between the two countries on most issues to which Bangladesh has openly reacted.
Shubhojyoti says, "Bangladesh has been the official side of barbed wire if the two are good friends then why the wall in the middle again? But on the other side, when Bangladesh High Commissioner in India, Sayyid Moazzam Ali told me that In a way, Bangladesh benefited from this.
Ali says that the fencing stopped cow smuggling from India and Bangladesh became self-sufficient in animal husbandry. "