Taliban delegation meets Shah Mahmood Qureshi in Islamabad
Afghan Taliban, Pakistan agree on the need for the speedy restoration of peace talks. Taliban delegation meets Shah Mahmood Qureshi in Islamabad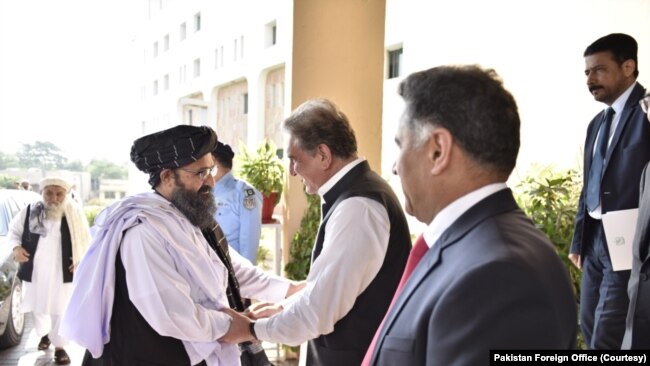 A high-level delegation of the Taliban's political office in Doha, Qatar, has met with Pakistani Foreign Minister Shah Mehmood Qureshi in Islamabad under the leadership of Mullah Abdul Ghani Baradar.
During Thursday's meeting in the Foreign Office, the sides agreed on the need for a speedy recovery of Afghan peace talks.
The Taliban delegation, headed by Mullah Abdul Ghani Brother, arrived in the Foreign Office.
He was received by King Mahmud Qureshi and welcomed the delegation to the Foreign Ministry.
Lieutenant General Faiz Hameed, the head of Pakistan's intelligence agency Inter-Services Intelligence (ISI), was also present on the occasion.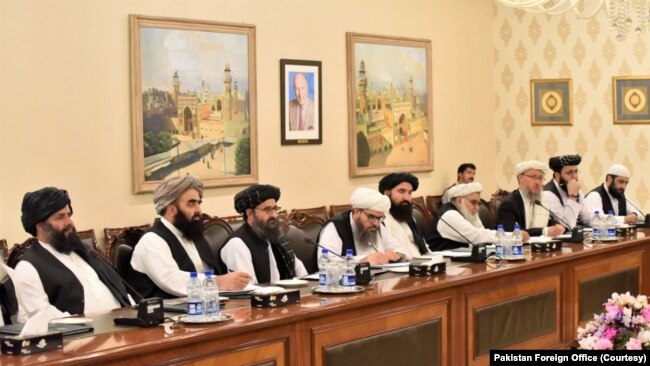 D uring the meeting, issues of mutual interest including the situation in the region, the Afghan peace process were discussed.
Shah Mehmood Qureshi said that peaceful Afghanistan is essential to the peace and stability of the entire region.
Pakistan has played a sincere role in the Afghan peace process under joint responsibility.
According to him, "We wish that the parties were interested in speedy recovery of the negotiations so as to pave the way for lasting and lasting peace and stability."
Shah Mehmood Qureshi said bilateral brotherly relations between Pakistan and Afghanistan are based on religious, cultural and historical grounds.
He said that for the past 40 years, the two countries have been suffering equally from instability in Afghanistan.
Pakistan sincerely believes that war is not the solution to any problem and that "negotiation" is the only and only way for peace to remain in Afghanistan.
Shah Mahmood Qureshi further said that he is happy that today the world is supporting Pakistan's position in relation to Afghanistan.
The Afghan Taliban's high-level delegation also praised Pakistan's reconciliation role in the Afghan peace process.
It is to be remembered that the Afghan Taliban delegation led by Mullah Abdul Ghani community arrived in Pakistan on Wednesday night.
According to Sohail Shaheen, spokesman for the Doha office of the Taliban, the Taliban delegation includes senior leaders of the political office, including the leaders of the negotiating team, and the delegation will remain in Pakistan until October 6.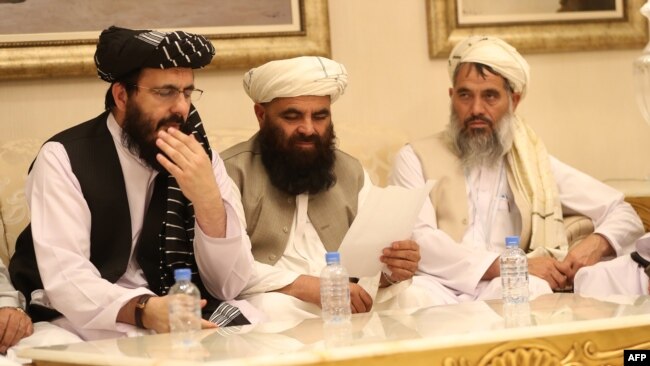 According to him, there is no agenda for the Taliban delegation to Pakistan.
During the visit, peace talks, the situation arising after the tweet by US President Donald Trump, will discuss issues of Afghan refugees and bilateral relations.
This is the fourth visit to the region since the US cancelled the negotiations with the Afghan Taliban and the leadership of the neighbouring countries of Afghanistan.
Earlier, Taliban leaders had also visited Russia, China and Iran in recent days.
The possibility of meeting Zalmay Khalilzad
Zalmay Khalilzad, US Special Representative for Afghan Reconciliation, is also in Pakistan.
Zalmay Khalilzad's visit is intended to further the dialogue between the United States and Pakistan in New York, a spokesman for the US Embassy told Voice of America.
Afghan affairs analyst and journalist Tahir Khan, speaking to Voice of America's representative Jalil Akhtar, said the presence of Taliban and Zalmay Khalilzad in Pakistan reinforces that Afghan peace talks resume. Can