Erdogan has said that if Kurdish fighters do not withdraw from the proposed safe zone in northern Syria by Tuesday evening, Turkey will "crush their heads". Turkish military action in Syria: Erdogan 'crush' Kurdish fighters
Erdogan's statement came in northern Syria after the sides violated a ceasefire agreement.
Addressing a television program on Saturday in Turkey's central province of Kayseri, Turkish President Erdogan said, "If by Tuesday evening the Kurdish fighters did not return as they agreed to the ceasefire, then we would crush the heads of the terrorists." Will. '
The Turkish leader is scheduled to speak with Russian President Vladimir Putin next week.
He said Turkey would "execute its plans" if the talks were not concluded.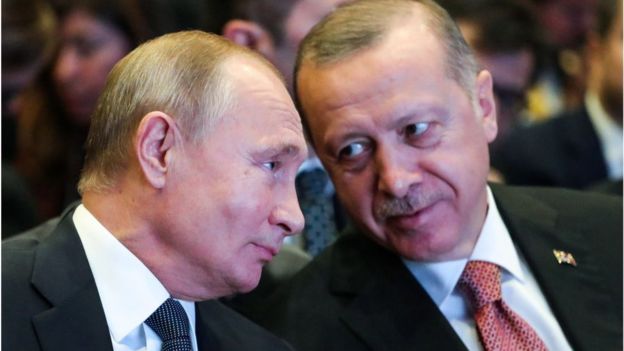 Earlier, Turkish and Kurdish forces accused each other of violating a ceasefire agreement in northern Syria.
Despite the ceasefire in northern Syria, violence has continued in some areas, especially around the border town of Ras al-Ain. '
The Turkish Defense Ministry has accused Kurdish forces of carrying out 14 'provocative' attacks in the past 36 hours but insists that Turkish forces are in full compliance with the deal.
On the other hand, the Syrian Democratic Forces (SDF), led by the Kurds, have accused Turkey of violating the ceasefire agreement.
The SDF also accused Turkey of failing to provide safe passage for the evacuation of civilians and injured people from the besieged town.
The SDF called on Saturday US Vice President Mike Pence to pressure Turkey to allow civilians to move.
In a statement, the SDF said, "Despite continued contact with the US party and their commitment to resolve the issue, there has been no significant progress."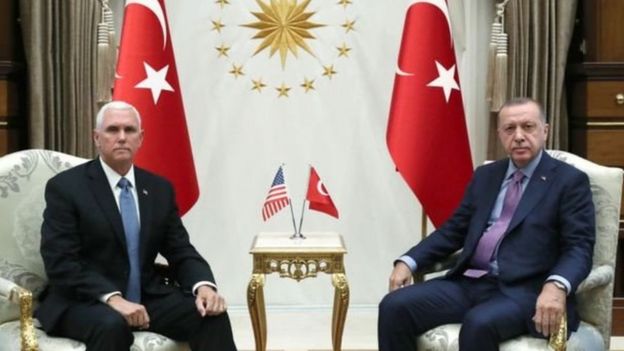 The UK-based Syrian Observatory for Human Rights (SOHR) has alleged that humanitarian aid has also been prevented from entering Rassoul.
The SOHR said in a statement on Friday that 86 Turkish civilians were killed and 160,000 to 300,000 people were forced to leave their homes in operations in northern Syria.
It should be noted that the United States announced on Thursday that it had signed a five-day ceasefire with Turkey to allow Kurdish fighters to leave northern Syria.
The agreement was reached at a meeting between US Vice President Mike Pence and Turkish President Recep Tayyip Erdo ۔an.
According to US Vice President Mike Pence, the deal will hold a five-day ceasefire and the United States will help the Kurdish fighters escape.
It should be noted that Turkey considers the Syrian Democratic Forces (SDF) of the Kurdish militia as "terrorists" who accordingly support the anti-Turkish insurgency.
Turkey wants to create a 'safe zone' in the region where Kurdish militias do not exist and where some 36 million Syrian refugees will come to Turkey.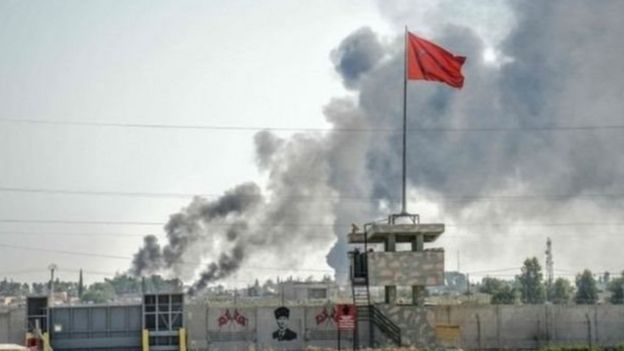 What caused the attack?
It should be noted that Turkey launched an offensive against the Kurds on October 9 following President Trump's decision to expel American troops from northeast Syria.
Turkish President Recep Tayyip Erdogan said he intended to create a 'safe zone' 480 km along the Syrian border, which is free of Kurdish militias and could also be home to Syrian refugees.
Since the withdrawal of the US military from Syria, President Trump has been facing severe criticism, and many experts say it has given Turkey a green signal for military action against the Kurds.
President Trump has been widely criticized by his own party.
129 members of President Trump's Republican Party, along with Demo Crates, voted against the president's move.
Amnesty International, meanwhile, says it has collected "evidence" of war crimes and other violations, while the UN has called for an investigation into the allegations by Turkey.
Unverified reports have also revealed that Turkish coalition forces have used white phosphorus in Syria, a chemical weapon that causes major burns.
The Chemical Weapons Prevention Organization (OPCW) has said it is aware of these claims and is collecting evidence.