In a bilateral meeting on Saturday, seven agreements were signed between the two countries in various areas including security, trade.
Along with this, three projects including LPG gas imports from Bangladesh were also started.
This LPG will be used in the states of North East India.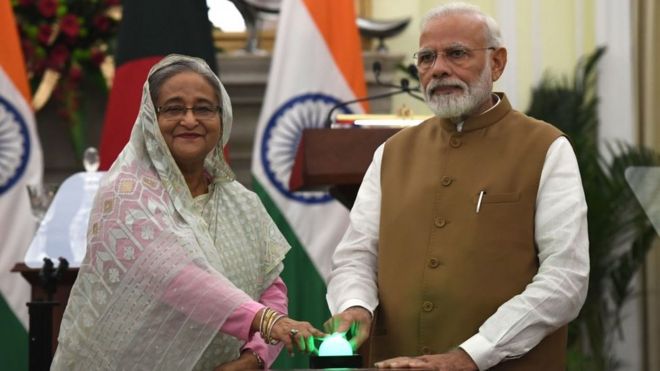 GETTY IMAGES
During this time Indian Prime Minister Narendra Modi said that he is very happy that in the last one year he has presented nine projects with Bangladesh through video link.
He expressed happiness that it will benefit the citizens of both countries and the development of citizens of both countries is the basis of India-Bangladesh partnership.
During this time, there was no discussion on issues like Teesta river water sharing and Rohingya-NRC, while it was understood that the Teesta river issue could come up again.
At the same time, Sheikh Hasina had already made it clear that she had talked to Prime Minister Modi on the NRC in New York and asked him to be carefree about it.
Because of this, it was understood that there would be no talk on NRC on his visit.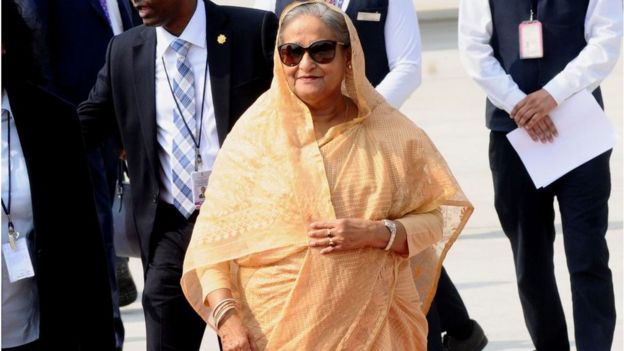 GETTY IMAGE
So how successful was Sheikh Hasina's visit?
Overall, how successful should this four-day visit of the Bangladeshi Prime Minister be considered and what has India achieved?
On this question, former diplomat Veena Sikri says that this has been a very successful visit by Sheikh Hasina.
She says, "India-Bangladesh relations are at a high level right now. The land border agreement, maritime boundary agreement has been reached in the last five years. Apart from this, every sector has progressed."
However, no major agreement has been reached between India and Bangladesh in the recent visit of Sheikh Hasina.
On this, Veena Sikri says that all the agreements that have been reached are an extension of the earlier agreements and there is no need to be a bully on every visit.
In the last few years, strict action has been seen in Bangladesh regarding Islamic extremism.
During the visit of Sheikh Hasina, both countries have also talked about terrorism.
It is also a big deal to join the two countries on action against terrorism.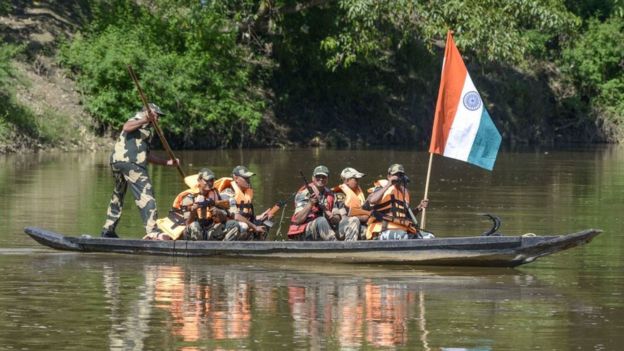 GETTY IMAGES
Bangladesh's expectations from India
Water sharing of Teesta river has been an important issue between India and Bangladesh.
Bangladesh wants an agreement on this as soon as possible.
Mukund Dubey, a former diplomat of India in Bangladesh, says that India has not lived up to the expectations of Bangladesh till date and wants the Teesta water to be divided.
He says, "The Teesta water sharing issue was almost resolved but due to the internal politics of the country, it got stuck. The agreement to send goods through Bangladesh land to Northeast India and goods from Bangladesh's Moongla and Chittagong ports abroad Sheikh Hasina agreed to the export agreement but it has not been implemented till now and the main reason is that her expectations from India are not fulfilled.
is."
At the same time, Veena Sikri says that relations between India and Bangladesh are in a very good phase at this time, in the last five years good agreements have been made for the people of both countries.
However, she does not consider Teesta water sharing as a big issue.
She says, "There have been talks between the two countries on the sharing of rivers and there have been talks on Teesta. Also, a committee has been formed on Teesta which will give its opinion on this. Due to non-agreement on sharing of Teesta river There is no harm for Bangladesh because all the water is going on in Bangladesh. Work is going on on irrigation projects in West Bengal due to which water is not stopped here. "
"A survey is needed on the Teesta because it is a river which is in drought condition for a long time. Only after a survey on it, it will be known that when one will get how much water."
Bangladesh has always had a good relationship with India but in recent years it is closer than China.
China has given $ 20 billion to Bangladesh for various projects, so does India need to be scared of this?
To this, Muchakund Dubey says, "India should think about the things that will bring the two countries closer. There should be a Comprehensive Economic Cooperation Agreement between India and Bangladesh. What has not happened so far and the two countries are just different Is limited to agreements. "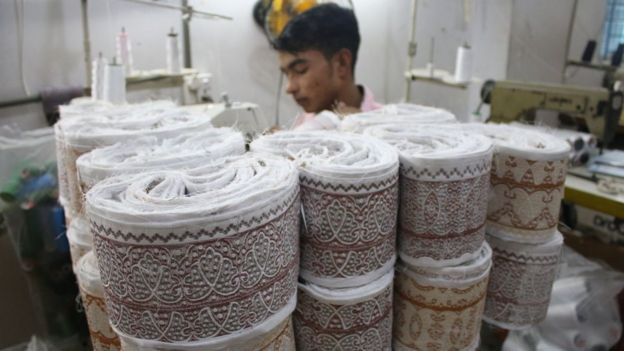 GETTY IMAGES
What can Bangladesh teach
Agreements between India and Bangladesh include LPG exports and arrangements for drinking water supply in Sabroom city of Tripura.
Bangladesh is in a situation when it is very useful for India.
At the time of formation of Bangladesh in 1971, its economic condition was poor but today its economy is doing fine and in some indices, it is better than India.
Says Muchkund Dubey, "Today Bangladesh is better than India in indices like infant mortality, maternal mortality rate. In social sectors, he has moved ahead of us in many places. Bangladesh is not supported by anyone today."
At the same time, Veena Sikri says, "There are many things in South Asia that the two countries can learn together. Bangladesh has made a lot of progress in the Human Development Index. India can learn a lot from this."
In the recent report of the Asian Development Bank, Bangladesh was described as the fastest growing economy of South Asia.
As of 2016, Bangladesh was growing at the rate of 7 per cent every year, which can now surpass 8 per cent.
Veena Sikri says that Bangladesh has told its recent growth rate that it is moving forward, due to which India and Bangladesh should increase their cooperation further.
Trade between the two countries has exceeded 10 billion dollars, which will increase further in the future.