Showing mobile displays of the future
When folded, the area of ​​the mobile device can be reduced more than when using a folding design
Visionox, which is a supplier of screens for the Xiaomi Mi Mix Alpha smartphone with a girdle display and Xiaomi Mi Note 10, showed some interesting prototypes at a three-day event held in Hefei, Anhui Province of China.
First, Visionox showed off its flexible AMOLED panel, which rolls up into a roll. The developers claim that when folded, the area of ​​the mobile device can be reduced more than when using a folding design.
It is quite obvious that before this technology is implemented in a real product, quite a lot of time will pass. The fact is that at the exhibition the manufacturer showed only the display itself, which was not even placed in the body of any prototype.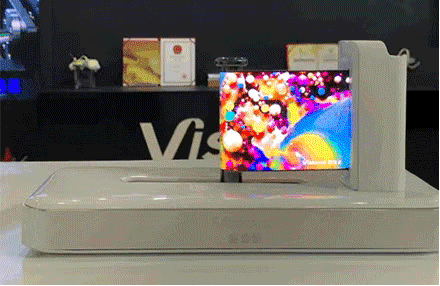 In addition, Visionox also showed a folding clamshell smartphone that folds in the same way as the Motorola Razr 2019. The main difference is that the rear panel when unfolded looks the same as the back panel of a regular smartphone. Users do not have an additional screen when folded.