In the spring of the past year, two industrial giants - Samsung and Huawei - simultaneously demonstrated the working samples of their folding smartphones - Galaxy Fold and Mate X, respectively. Moreover, many Huawei managed to hold and describe the Huawei device in their hands and describe in their reports.
Nevertheless, in the end, the Korean smartphone was the first to go on sale, and it became the first serial mobile device in the world with a real flexible screen, about which both the creators of mobile technology and technologists have dreamed for many years
Since the advent of AMOLED-matrices on organic LEDs, it has been a question of the possibility of folding screens, various prototypes from small gadgets to huge TVs are produced, but Samsung has turned dreams into a real reality: now you can safely go to the store and buy a foldable smartphone, folding in a seven-inch tablet, and his name is Galaxy Fold.
Main features of Samsung Galaxy Fold (model SM-F900F)
SoC Qualcomm Snapdragon 855 (1 × Kryo 485 Gold @ 2.84 GHz + 3 × Kryo 485 Gold @ 2.42 GHz + 4 × Kryo 485 Silver @ 1.78 GHz)

GPU Adreno 640

Android 9 operating system

AMOLED 7.3 ″ touchscreen display, 1536 × 2152, (4.2: 3), 362 ppi, HDR10 +

Optional (external) display Super AMOLED 4.6 ″, 1680 × 720 (21: 9), 401 ppi

RAM (RAM) 12 GB, Internal memory 512 GB

No memory card support

Support Nano-SIM (1 pc.) + ESIM

GSM / WCDMA Networks

Networks LTE Cat. 18 1200/150 Mbps

GPS / A-GPS, Glonass, BDS, Galileo

Wi-Fi 802.11a / b / g / n / ac (2.4 and 5 GHz)

Bluetooth 5.0, LE, aptX and aptX HD

Nfc

USB 3.1 Type-C, USB OTG

No audio output to headphones (3.5 mm)

Main camera: 12 megapixels, f / 1.5 or f / 2.4 (main) + 12 megapixels, f / 2.4 (2 × zoom) + 16 megapixels, f / 2.2 (wide angle), 4K @ video 60 fps

Front camera 10 MP, f / 2.2 + 8 MP, f / 1.9 + 10 MP, f / 2.2

Proximity and lighting sensors, magnetic field, accelerometer, gyroscope

Fingerprint Reader (Side)

4380 mAh battery, 15 W fast charge, 15 W fast wireless charge

Dimensions (when folded) 161 × 63 × 15.5 mm

Dimensions (unfolded) 161 × 118 × 6.9 mm

IP68

Weight 263 g
Appearance and usability
If you do not take into account the increased thickness and weight of the device, which are quite justified for the clamshell, then, in general, the design of the Samsung Galaxy Fold can be considered successful.
Pretty nice, but without any surprising novelty, the classic case design would have looked quite ordinary, and even boring, if it had a more familiar monoblock structure.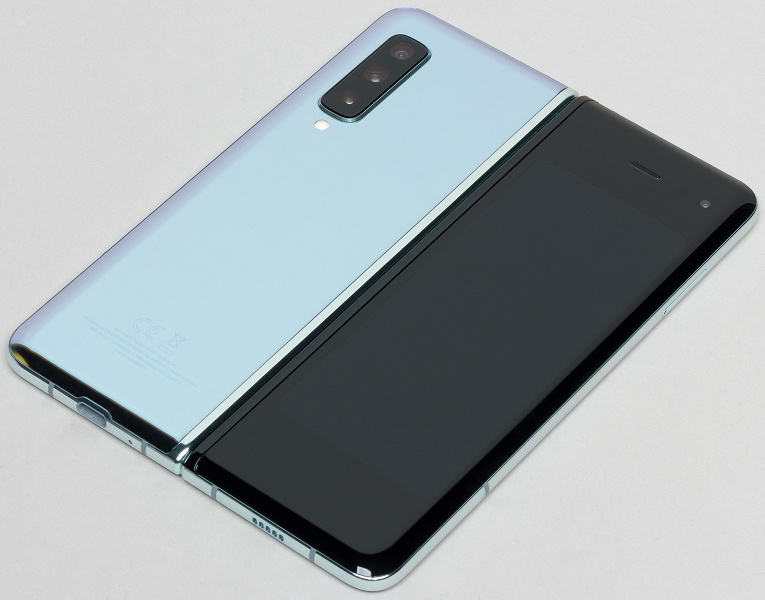 Apart from the form factor, everything is just like everyone else: there is a metal frame around the entire side perimeter and there are glass panels in front and behind.
There is no glass, however, above the main screen, since it must be flexible at the point of inflexion, and therefore, is covered with a polymer protective film.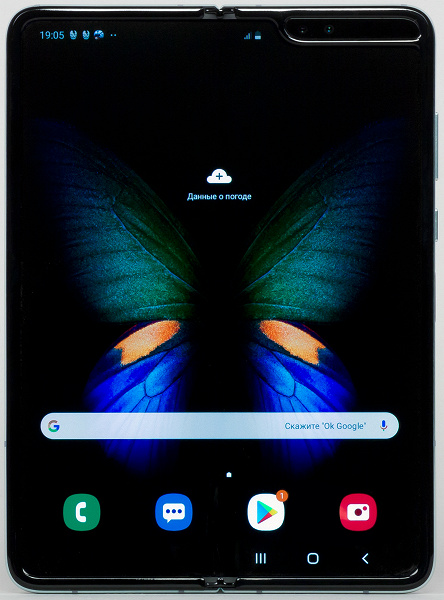 The film is smooth to the touch, does not collect fingerprints at all when touched it resembles usual glass, but at the same time, it is squeezed under the pressure of a finger.
At the place of the inflexion, you can notice a small "wave", but this is absolutely not critical, over time you cease to notice it at all.
Naturally, the polymer flexible coating will have to be handled more carefully than the glass, so when you first turn on the customer will be immediately informed about all the nuances of working with a device of such an unusual format.
Due to the features of the flexible screen, which requires at least a minimal, but still smooth bend (it cannot be simply folded in half, like a sheet of paper), the two halves of the body also do not converge tightly at the bend.
It looks rather ridiculous, but such is the fee for running in new technologies - later, perhaps, they will come up with something.
For design and protection, the manufacturer has provided an unusual case, consisting of two separate parts, mounted on the halves of the body due to the sticky inner surface.
In the case of the complete version, the cover is decorated in the form of Kevlar surfaces.
It also looks quite peculiar, but obviously more interesting than without a cover at all.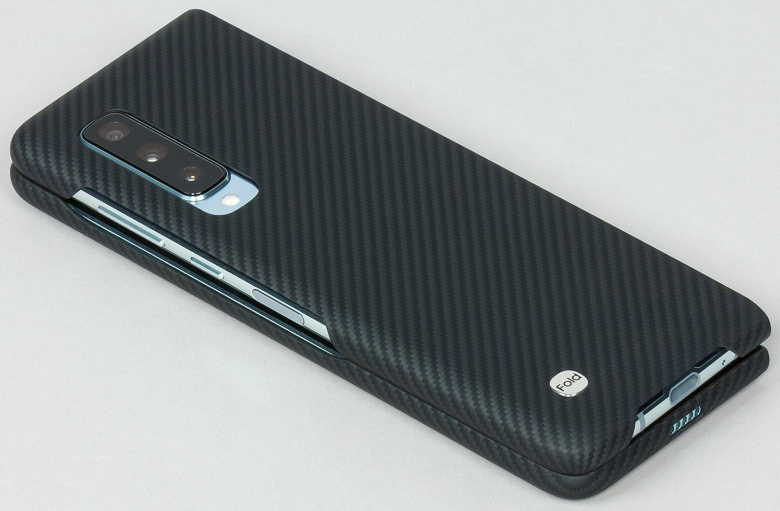 Quite bulky, thick and heavy, and besides, the "closed" Samsung Galaxy Fold, which is very elongated in length, resembles a case rather than a smartphone.
In the pocket of your clothes, this heavy block feels too weighty to be worn so constantly.
But it's worth decomposing the Samsung Galaxy Fold into a seven-inch tablet, as it miraculously immediately begins to feel in your hands and not so bulky, and not so heavy, and the thickness does not even reach 7 mm.

The opening-closing mechanism feels reliable, works clearly, firmly holds the halves in both positions.
The developers claim that the screen is designed for at least 200 thousand bends, that is, about 5 years of operation.

A rather wide and deep cutout for cameras with sensors takes away space from the internal screen, because of this the shape of the screen at the top is very unusual.
But the speaker is not here: for telephone calls, you need to fold the device - or talk unfolded in speakerphone mode, like on a tablet.
The mechanical side keys along with the flat pad of the fingerprint scanner are located on one side.
When the smartphone is complicated, on the same side is the SIM card slot.

On the other sidewall, of course, there is nothing.
Despite the huge case and a large amount of free space, only one SIM-card can be installed in the smartphone, and the memory card cannot be installed at all.
It's hard to say what this is connected with, but it's more like a marketing move to push ideas with eSIM, rather than a lack of space for a second "real" SIM card.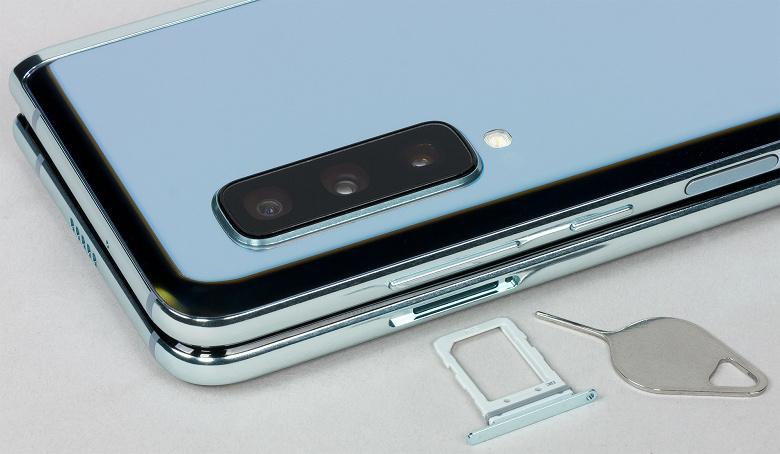 Even more disappointing is the fact that this most powerful and sophisticated multimedia smartphone tablet lacks a 3.5 mm headphone output.
Perhaps for a tablet, this is already too much.
But on the upper and lower ends, there are loud and high-quality stereo speakers that perfectly cope with any tasks, from playing soundtracks to movies to transmitting voice in speakerphone mode - the device does not have a spoken speaker in tablet mode.
Partly to brighten up the bitterness of the lack of a mini-jack, AKG complete wireless headphones are called on, moreover, included in their own separate case.
This is due to the fact that the case with headphones can be charged using wireless charging, just by putting it on your smartphone.
Headphones sound excellent, there's nothing to complain about, but they cost pretty decent money separately.
In general, Samsung did not skimp on accessories for a premium product, and this is good news.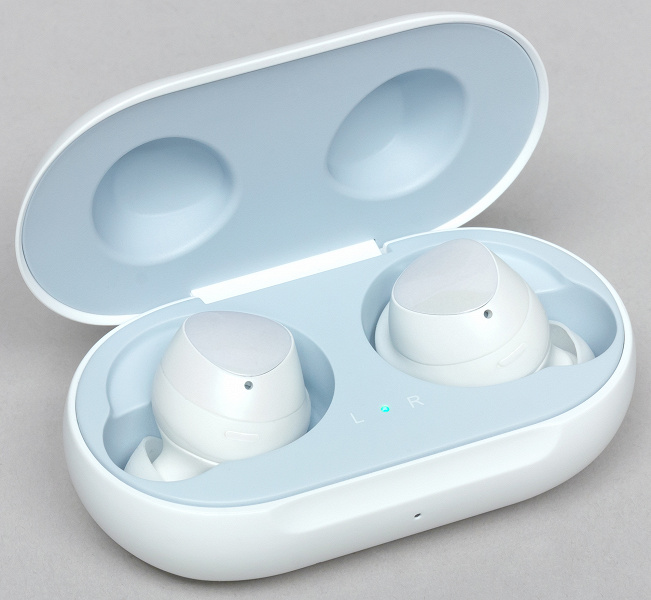 Samsung Galaxy Fold is offered in two design options - black and silver.
There are also green and blue options in nature, but they are not for sale in Russia.
In any case, the "sticker covers" quite strongly transform the appearance of the device, almost completely hiding its original colour, so you should not pay much attention to it when buying.
The device's case has not received full protection against water and dust.
Screen
Samsung Galaxy Fold is equipped with a flexible 7.3-inch AMOLED display with a resolution of 2152 × 1536.
An external screen with an aspect ratio of 21: 9 has a diagonal of 4.6 inches with a resolution of 1680 × 720 and a pixel density of 397 PPI.
The front surface of a large folding screen is made of plastic.
However, its surface is relatively resistant to scratches - at least it was not possible to scratch it with a fingernail.
The surface of the flexible screen is glossy and slightly uneven over the entire area, and there is a pronounced fold at the bend.
However, this has almost no effect on the image, if you look at the screen more or less perpendicular to its surface.
The outer surface of the small sub-screen is a glass plate with a mirror-smooth surface that is resistant to scratches.
Judging by the reflection of objects, the anti-glare properties of both screens are better than those of the
Google Nexus 7 (2013)
(hereinafter simply Nexus 7).
For clarity, we present a photograph in which the white surface is reflected in the turned off screens (on the left - Nexus 7, on the right - Samsung Galaxy Fold, then they can be distinguished by size):
The screens of the Samsung Galaxy Fold are noticeably darker (the brightness in the photographs is 112 for the large and 109 for the additional verses 117 for the Nexus 7) and do not have a pronounced hue.
The doubling of the reflected objects in the screens of the Samsung Galaxy Fold is very weak, which indicates that there is no air gap between the layers of the screen.
Due to the smaller number of boundaries (such as glass/air) with very different refractive indices, screens without an air gap look better under conditions of intense external illumination.
On the outer surface of the Samsung Galaxy Fold screens there is a special oleophobic (grease repellent) coating (very effective, much better than the Nexus 7), so fingerprints are removed much more easily and appear at a lower speed than with ordinary glass.
When displaying a white field
in full screen
and with
manual controls
maximum value was only 340 cd / m² (for both screens) under normal conditions, but in very bright light it rises to 530/620 cd / m² (primary/secondary screens).
You also need to take into account the fact that in this case, the smaller the white area on the screen, the brighter it is, that is, the actual maximum brightness of white areas will almost always be higher than the specified value.
As a result, the readability of both screens in the afternoon in the sun should be at an excellent level, and the dark theme not only saves battery power but also contributes to better legibility of information on the screen in high light conditions.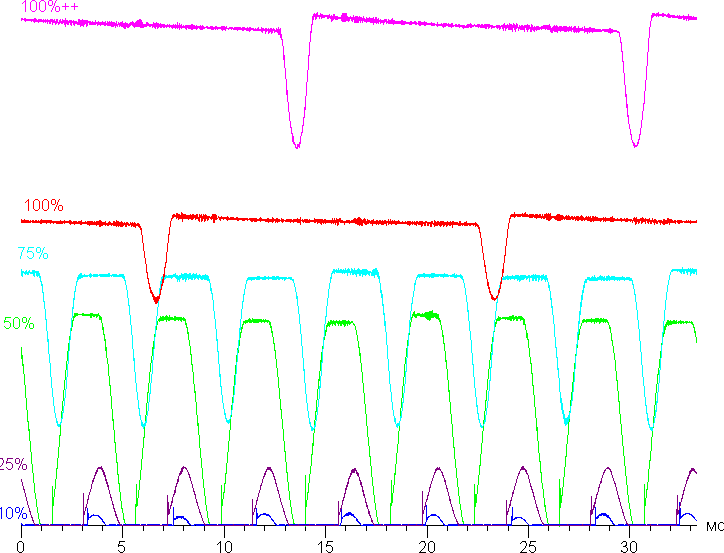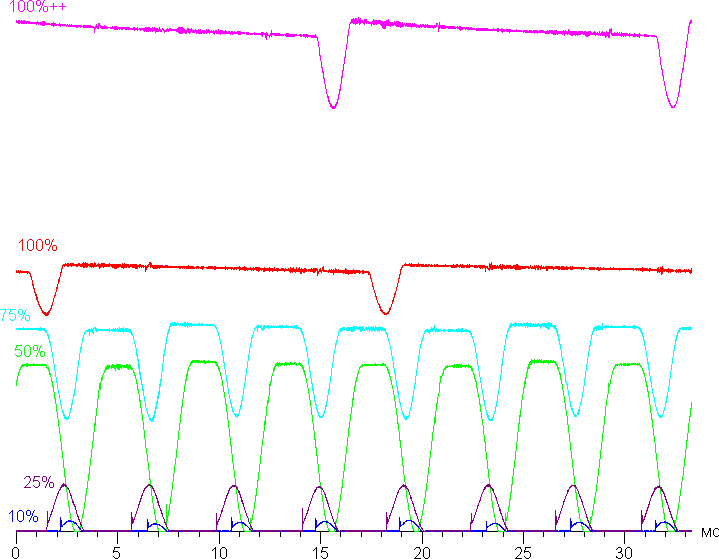 It can be seen that at maximum (as "100% ++" we designated the mode with additional illumination of the light sensor with bright light) and a brightness close to it, the modulation amplitude is not very large, as a result, there is no visible flicker.
The minimum brightness value is 1.6 / 1.8 cd / m², that is, a reduced brightness level without problems allows you to use the device even in complete darkness.
Automatic brightness control by light sensors works (one is located in the cutout of the large screen to the right of the front camera, the second is above the small screen to the right of the front speaker).
The operation of this function depends on the position of the brightness adjustment slider: the user may try to set the desired brightness level under the current conditions.
If you leave everything by default, then in complete darkness the auto-brightness function reduces the brightness to 8/8 cd / m² (a bit dark), in an office lit by artificial light (about 550 lux) it sets to 135/130 cd / m² (normal), and conditionally, in direct sunlight, it increases to 530/620 cd / m² (to the maximum, this is necessary).
The result didn't quite suit us, so in total darkness we slightly increased the brightness, getting as a result for the three conditions mentioned above the following values: 10/15
150/160 and 530/620 cd / m² (the perfect combination).
It turns out that the auto-brightness function works adequately and to some extent allows the user to customize their work to individual requirements.
At any brightness level, there is significant modulation with a frequency of about 60 or 240 Hz.
The figure below shows the dependence of brightness (vertical axis) on time (horizontal axis) for several brightness settings:
However, with a decrease in brightness, a modulation with a large relative amplitude appears, its presence can already be seen in the test for the presence of a stroboscopic effect or simply with rapid eye movement.
Depending on individual sensitivity, such a flicker can cause increased fatigue.
However, the modulation phase varies by zone, so the negative effect of flicker is reduced.
Both screens use the Super AMOLED matrix - and active matrix with organic LEDs.
A full-colour image is created using sub-pixels of three colours - red (R), green (G) and blue (B), but the red and blue sub-pixels are half as much, which can be designated as RGBG.
This is confirmed by a micrograph fragment:
Camera
The front camera of the unfolded Samsung Galaxy Fold (probably it is interesting in the first place - however, the front cameras on the smartphone are the same) has a 10-megapixel sensor and a lens with an f / 2.2 aperture without autofocus.
It is supplemented by a depth sensor (8 MP, f / 1.9) for portrait mode with background blur.
The camera is not impressive, it does not fully work out its resolution, with the slightest deterioration in lighting, noise is noticeable in the pictures, the detail is low, and at night it drops sharply.
However, the camera features are enough for a typical application.
The main camera has a 12-megapixel sensor (matrix size - 1 / 2.55 ″, pixel size - 1.4 μm) and a 27 mm dual-aperture lens: f / 1.5 or f / 2.4 (no intermediate values) .
If there is a lot of light, the diaphragm covers itself, in the dark - opens wider.
The camera has phase detection autofocus (PDAF) with Dual Pixel technology and optical image stabilization (OIS).
The second module is telephoto (12 MP, 1 / 3.6 ″, 1.0 μm, f / 2.4) with OIS and PDAF autofocus.
It implements a double optical zoom.
It uses exactly the same processing as for pictures on the main module, so all comments from the paragraph above apply to them.
Top-end modern smartphones are characterized by an excellent picture of the optical zoom, crystal clarity of distant inscriptions and small fragments, the essence of which had to be guessed from the picture (also excellent) from the main module.
Completes the set of modules is the traditional wide-angle (16 megapixels, f / 2.2).
Here, the shooting quality is expectedly lower (this is typical for all even top-end smartphones), but there is no such clear contrast with the pictures of the main module, as in the case of flagship smartphones from other manufacturers.
Moreover, geometric distortions and a drop in sharpness at the edges of the frame are pretty divine (again, compared to the wide-angle cameras of other smartphones).
Telephone part and communications
The smartphone supports the maximum number of frequency ranges LTE-A (6CA) Cat. 18 1200/150 Mbps: LTE band 1 (2100), 2 (1900), 3 (1800), 4 (1700/2100), 5 (850) , 7 (2600), 8 (900), 12 (700), 13 (700), 18 (800), 19 (800), 20 (800), 25 (1900), 26 (850), 28 (700) , 38 (2600), 39 (1900), 40 (2300), 41 (2500), 46 (5200), 66 (1700/2100).
The navigation module works with GPS (dual-frequency, with A-GPS), with domestic Glonass, with Chinese Beidou and with European Galileo.
The first satellites during a cold start are detected quickly, within the first seconds, the accuracy of positioning does not cause complaints.
The magnetic compass needed for navigation programs is in place.
Naturally, it also supports all LTE FDD (Band 3, 7, 20) and LTE TDD Band 38 bands that are widespread in Russia. In practice, within the city limits of the Moscow region, the device demonstrates confident operation in wireless networks, does not lose connection, quickly restores communication after a forced break.
There are no complaints about the work of the Wi-Fi module (2.4 and 5 GHz, with support for 802.11ac).
There is Bluetooth 5.0, there is an NFC module (with Samsung Pay support).
The fast USB 3.1 Type-C port has USB On-The-Go support.
The phone application supports Smart Dial, that is, while dialling a phone number, a search is made by the first letters in the contacts.
The methods for sorting and displaying contacts are standard for the Android interface, there is the ability to block unwanted contacts.
Vibrating alert medium power.
The voice of the interlocutor in the dynamics is legible, the sound is clear and loud, but the standard ability to record a call is not provided.
Regarding support for SIM-cards: it is said that Samsung, like the rest, takes over any, even the most insane inventions of Apple.
Why was it necessary to remove the slot for the second SIM-card of the already microscopic Nano-SIM format? There is nothing to explain except marketing.
However, in our country, only Tele2 operator issues officially eSIM, which does not differ in high-quality communications and many would not like to use its services.
But there is simply no second "physical" slot here.
and if you want eSIM, go to Tele2.
Software and Multimedia
As a software platform, the Samsung Galaxy Fold uses Google Android 9th version with its own One UI shell.
In general, this is the same interface as in other top-end smartphones of the latest generation (Galaxy S10 +, Note 10+), but, of course, with its own features associated with a folding screen.
This is reflected in the design, that is, not quite the usual distribution of application icons, and in the process of transition from the external screen of the smartphone to the folding screen of the tablet
In this regard, there are both negative aspects (for example, with third-party software the elements may not fit in compactly or even fall into the "dead zones"), and there are positive aspects — for example, the keyboard is divided into two separate parts for typing with the thumbs of both hands.
Advanced multi-window mode allows you to display three static and one-fourth window floating on top of them.
There are a retractable sidebar and other familiar advanced interface features like gesture support.
There is a flexible customizable Always-On Display mode.
The fingerprint scanner located on the side of the face uses a capacitive sensor, that is, the "classic".
However, the strip of the scanner area is so narrow that sometimes the surface is not enough, you have to slightly drag it with your finger.
There is a face recognition function, but it is based on the operation of only one front module.
In the dark, this function does not work, but it cannot be fooled by photography either.
Thanks to two front-facing cameras (on different surfaces), face unlocking is possible on both a folded smartphone and an unfolded one.


Testing in complex tests AnTuTu and GeekBench:
All the results we obtained when testing the smartphone in the latest versions of popular benchmarks, we have brought to the table for convenience.
Usually, several other devices from various segments are also added to the table, which was also tested on the latest versions of benchmarks (this is done only for a visual assessment of the obtained dry numbers).
Unfortunately, in the framework of one comparison, it is impossible to present the results from different versions of benchmarks, therefore, many worthy and relevant models remain behind the scenes - due to the fact that at one time they passed the "obstacle course" on previous versions of test programs.
Samsung Galaxy Fold


(Qualcomm Snapdragon 855)

Samsung Galaxy Note10 +


(Samsung Exynos 9825)

Huawei Mate 30 Pro


(Huawei Kirin 990)

Huawei P30 Pro


(Huawei Kirin 980)

Samsung Galaxy S10 +


(Samsung Exynos 9820)

AnTuTu (v7.x)


(more is better)

321922

338801

321922

313035

328955

GeekBench 4


(more is better)

1723/5893

3324/10000

4485/10232

GeekBench 5


(more is better)

769/2888

769/2888

Graphics subsystem testing in 3DMark and GFXBenchmark game tests:
When testing in 3DMark for the most productive smartphones, it is now possible to run the application in Unlimited mode, where the rendering resolution is fixed at 720p and VSync is disabled (due to which the speed can rise above 60 fps).
Samsung Galaxy Fold


(Qualcomm Snapdragon 855)

Samsung Galaxy Note10 +


(Samsung Exynos 9825)

Huawei Mate 30 Pro


(Huawei Kirin 990)

Huawei P30 Pro


(Huawei Kirin 980)

Samsung Galaxy S10 +


(Samsung Exynos 9820)

3DMark Ice Storm Sling Shot ES 3.1


(more is better)

4498

4981

4498

4233

4384

3DMark Sling Shot Ex Vulkan


(more is better)

2763

4756

2763

3512

4233

GFX Benchmark

Manhattan ES 3.1


(Onscreen, fps)

55

38

55

49

37

GFX Benchmark

Manhattan ES 3.1


(1080p Offscreen, fps)

67

71

67

56

66

GFX Benchmark

T-Rex


(Onscreen, fps)

58

60

58

60

60

GFX Benchmark

T-Rex


(1080p Offscreen, fps)

140

170

140

137

142
Testing in cross-platform browser tests:
As for the benchmarks for evaluating the speed of the javascript engine, you should always make a discount on the fact that the results in them significantly depend on the browser in which they are launched, so that the comparison can be truly correct only on the same OS and browsers, and this is possible when testing not always.
In the case of the Android OS, we always try to use Google Chrome.
Samsung Galaxy Fold


(Qualcomm Snapdragon 855)

Samsung Galaxy Note10 +


(Samsung Exynos 9825)

Huawei Mate 30 Pro


(Huawei Kirin 990)

Huawei P30 Pro


(Huawei Kirin 980)

Samsung Galaxy S10 +


(Samsung Exynos 9820)

Mozilla Kraken


(ms, less is better)

2109

4080

2267

2027

2375

Google Octane 2


(more is better)

24816

8987

22423

22228

18909

JetStream


(bigger is better)

62

thirty

63

64
Battery life
Samsung Galaxy Fold has a dual battery with an impressive total volume of 4380 mAh, but at the same time (for obvious reasons) does not show record autonomy.
In real life, the smartphone confidently lives for a day, but you still can't do without a daily night charge.
Testing was traditionally carried out at the usual level of energy consumption without using the energy-saving functions, although there are those in the device.
| | Battery capacity | Reading mode | Video mode | 3D game mode |
| --- | --- | --- | --- | --- |
| Samsung Galaxy Fold | 4380 mAh | 18 h. 30 m. | 15 h. 40 m. | 7 hours 30 meters |
| Samsung Galaxy Note10 + | 4300 mAh | 21 h. 20 m. | 2 p.m. | 8 h. |
| Huawei Mate 30 Pro | 4500 mAh | 22 h. | 12 h. 00 m. | 7 hours 00 |
| Huawei P30 Pro | 4200 mAh | 25 h. 00 m. | 5 p.m. | 8 h. |
| Samsung Galaxy S10 + | 4100 mAh | 24 h. | 5 p.m. | 8 h. |
Continuous reading in the FBReader program (with a standard, light theme) with a minimum comfortable brightness level (brightness was set to 100 cd / m²) lasted until the battery was fully discharged for 18.5 hours, and when watching a video in high quality (720p) without interruption,
The same level of brightness through the home Wi-Fi network, the device operates up to 15.5 hours.
In the 3D-games mode, the smartphone can work up to 7.5 hours depending on the specific game.
The smartphone supports fast charging, from a complete network adapter it fully charges in 2 hours 15 minutes (up to 55% in the first hour).
Supports fast wireless charging.
Also, the smartphone can charge other devices from its own battery, playing the role of a power bank.
Conclusion
The world's first folding smartphone with a flexible screen entered the market with some difficulties.
By tradition, Samsung could not help but be embarrassed, and the first devices issued to reviewers literally fell apart in their hands, so I had to postpone the sale of serial lots for an indefinite period.
Nevertheless, by the fall, the device still began to be sold, although not at the pace that the leadership wanted.
Of course, technological novelty, the unobvious advantages of the folding form factor and fears for the fragility of the folding mechanism and flexible screen discouraged many from trying to touch the future with their hands.
In general, this is an interesting gadget that can brighten up a long road, turning into a tablet - it turns out a powerful multimedia processor with good stereo sound.
However, watching movies on it is not very convenient (because of the screen with an aspect ratio of 4: 3), and with games, not everything is obvious.
Of course, the "filling" of the review hero is advanced, but according to the technical characteristics it is not cooler, and in some ways even easier than the same Galaxy Note 10+, so there is no reason to talk about Galaxy Fold as the most technically equipped flagship of the family.
This is really a niche transforming device, obviously not for everyone.
Samsung Electronics President Young Soon hastened to mistakenly declare as many as one million Galaxy Fold smartphones sold, but later this year, as part of CES 2020, Samsung executive director Dong Jin Ko announced new numbers.
The company set a goal of a million folding devices sold in 2019, but only a result of 400-500 thousand was achieved.